Welcome to the IHSA Wiki
Edit
This is the unofficial wiki of the Illinois High School Association and its 777 high schools. The purpose of the IHSA is to provide leadership for the development, supervision and promotion of good sportsmanship in interscholastic competition and other activities in which its member schools choose to engage. Participation in such interscholastic activities offers eligible students experiences in an educational setting which provide enrichment to the educational experience.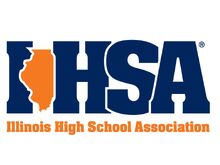 The Illinois High School Association was founded on December 27, 1900, at a rump session of the Illinois Principals Association. Known as the Illinois High School Athletic Association for the first 40 years of its existence, the IHSA is the second oldest of the 52 state high school associations. Only the Wisconsin Interscholastic Athletic Association outdates it, by two years. For the greater part of a decade, the IHSA was concerned mostly with establishing school control over interscholastic athletic programs and setting eligibility standards for competition. Ringers were a persistent problem, and among schoolboy sports, football was a special concern. In this period, severe injuries and even deaths were not uncommon, and there was much talk of banning football completely. In 1908, the IHSA's mission expanded in an unforeseen direction when its board was convinced by Lewis Omer of Oak Park and River Forest High School to sponsor a statewide basketball tournament. Although a handful of other state associations had sponsored track meets, none had ever attempted to organize a statewide basketball tournament. The first tournament, an 11-team invitational held at the Oak Park YMCA, was a financial success. Subsequent state tournaments, which were open to all member schools, provided the IHSA with fiscal independence, an important new vehicle to spread its message, and ever-increasing name recognition among the public.
Latest activity
Edit
Photos and videos are a great way to add visuals to your wiki. Add one below!
Community content is available under
CC-BY-SA
unless otherwise noted.